The girls' squad at Preston Nomads CC has gone from strength to strength this season. After a head start of regular indoor winter nets the girls won two early season victories (against Eastbourne and Hastings) in the under-15 East Sussex League. There followed a frustrating spell of matches forfeited by the opposition because they were unable to raise a team, which was disappointing for our girls who were on top of their game as a result of Friday night coaching and additional training sessions – one damp Sunday morning they took themselves for a run round a very wet field! The upshot was a somewhat lucky, yet well-deserved winning of the League, as the girls had never lost a game.
Most of the squad were due to attend a hard ball training camp organised by the county club at Ditchling in August, but the weather intervened and only one session, with a soft ball, was possible. The girls capitalised on this training to win a late season soft ball friendly against St James Montefiore (whose side, to be fair, was younger and on the whole inexperienced – but a good time was had by all).
The season is still not over for the Nomads girls, who as East Sussex League winners are due to take on the West Sussex winners at Horsham on 10th September, when they will also be presented with their League trophy and receive coaching from Sussex and England women players. Many of the girls also plan to attend county age group trials in the autumn, then it will be time for winter nets to start up again!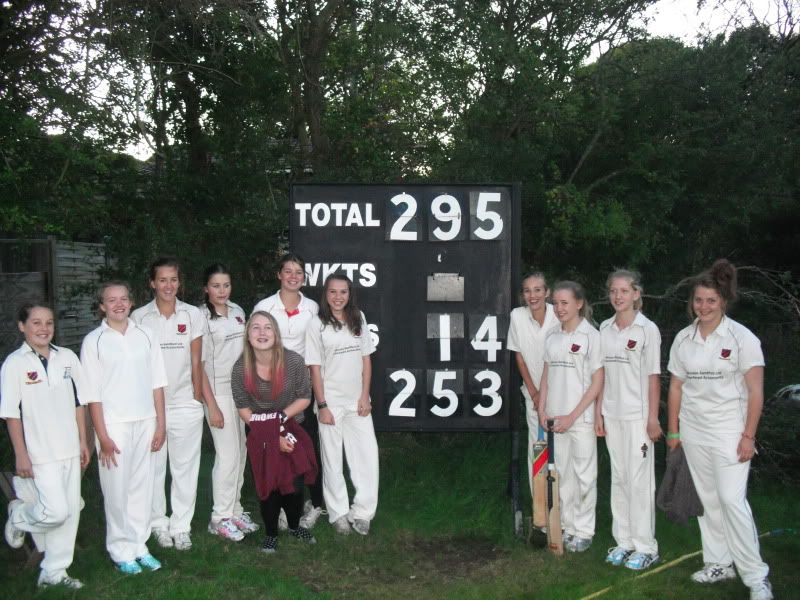 Team spirit, friendship and enjoyment have been the key, with the girls encouraging and co-operating with each other, taking turns at captaincy and being so committed that some have played through painful injuries rather than let the side down. They have been ably coached by Chiara Green, Georgia Adams and Simon Tunley, with great encouragement from PNCC Colts' manager Andy Garth who has been determined to see the girls fulfil their potential. There is always room for new girls to join; the squad especially needs younger newcomers (there were not enough girls in the age group to raise an under-13 team this year). This friendly group will quickly make you feel welcome and part of the combined effort that characterises Preston Nomads girls' squad.